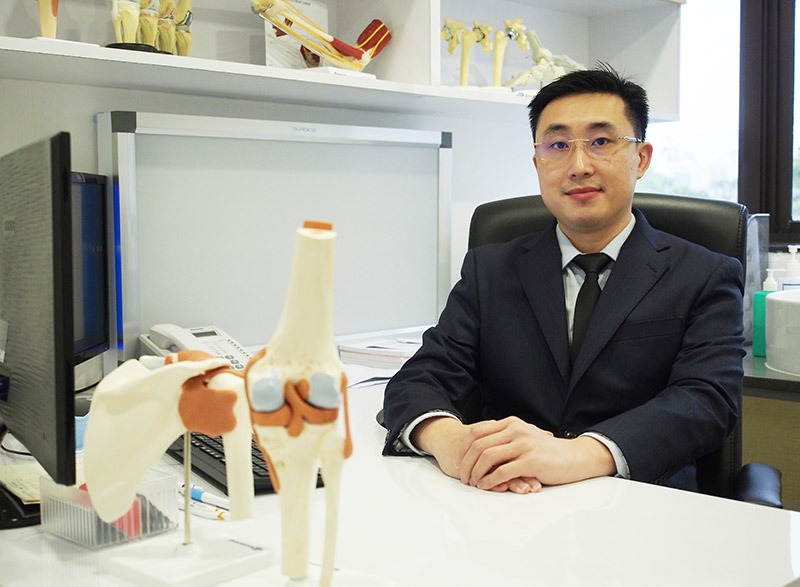 Senior Consultant
Orthopaedic Specialist
MBBS (Singapore)
MRCSEd
MMED
FRCSEdOrth (Gold Medal Award)
Gold Medal Award for Fellowship of Royal College of Surgeons Examination
Former Deputy Head Of The Shoulder and Elbow Division, Key Member Of The Sports Medicine Division In National University Hospital
Previous Core Faculty for the NUH Residency Program
Organising Committee for the National Shoulder and Knee Arthroscopy Course
Assistant Professor, National University of Singapore
Dr Dennis Ng Zhaowen is an Orthopaedic Surgeon with main interest in Sports, Shoulder and Knee conditions, with extensive experience treating professional athletes.
He was the Deputy Head of the Shoulder Elbow Division and a key member of the Sports Medicine Division in National University Hospital before moving on to private practice. Common conditions that he treats include frozen shoulder, rotator cuff tears, shoulder impingement, shoulder dislocation and instability, shoulder arthritis, upper limb fractures, tennis elbow, as well as knee conditions such as knee cartilage injury, ligament tears (ACL), meniscus tears and knee arthritis.
Minimally invasive techniques are used for better surgical outcomes and reduced downtime. Patients include national athletes for sports such as basketball, soccer, judo, rugby, rock climbing and cycling etc.
He obtained his medical degree (MBBS) from the National University of Singapore in 2007 and was awarded Dean's List in AY2003/04. Subsequently, he pursued his postgraduate training in Orthopaedic Surgery and obtained his Masters of Medicine in 2013. In 2015, he received the Gold Medal Award for being the top candidate in the Fellowship of the Royal College of Surgeons Examination (FRCSEd Orth).
Dr Dennis Ng Zhaowen was awarded the Human Manpower Development Plan scholarship from the Ministry of Health and underwent subspecialty training at the esteemed Fowler Kennedy Sports Medicine Clinic, Ontario, Canada. He has extensive experience with the management of sports injuries, having treated professional athletes in North America.
As a firm believer in the training of younger surgeons, Dr Ng was a Core Faculty for the NUH Residency Program, and part of the Organising Committee for the National Shoulder and Knee Arthroscopy Course. He was conferred the title of Assistant Professor by the National University of Singapore and was also appointed to various positions at the institution. These included Patient Safety Officer, and Clinical Documentation and DRG Coding Clinician Champion.
He was also responsible for supervising and mentoring residents posted to the Department of Orthopaedic Surgery, NUH. In May 2018, he was the Co-Convenor for the Joint Specialty Fellowship Examination in Orthopaedic Surgery. Besides postgraduate teaching, Dr Ng was also involved with undergraduate teaching in clinics and tutorial sessions. He was the Convenor for AY17/18 – 3rd Professional MBBS Examinations and was regularly involved as an invigilator for the MBBS Phase III and V examinations.
Besides his clinical duties, Dr Dennis Ng has also contributed to the scientific literature of Orthopaedic Surgery with published papers and abstracts presented at local and international medical conferences.
AT THE ORTHOPAEDIC CENTRE
WE ARE COMMITTED TO PROVIDE PERSONALIZED, COMPREHENSIVE CARE FOR YOU
Same Day Appointment
Attentive and Conscientious Team
Minimally Invasive Keyhole Techniques
MOH-Compliant Transparent Pricing
We are open for emergency appointments to treat you as soon as possible. Get in touch with us today through 6690 4932 for a personalized assessment, or complete the form below.